Rediscover Singapore and its Hidden Charms with Captain Sindo
Daily departure from Harbourfront Centre
Have you lived in Singapore your entire life and gotten tired of the flashing city lights? Or perhaps you work in this metropolis and feel a desperate need for a holiday. Either way, it is possible to rediscover Singapore like a tourist as you explore forgotten paths and hidden troves. In fact, there may be a secret side of Singapore that most of us do not know about.
Exploring the many places of interest in Singapore that are hidden from the mainstream destination, it is easy to be enchanted. We can now book tickets with Sindo Ferry and explore the islands in Singapore in comfort and safety.
Explore Singapore's Southern Islands
There is an easy remedy to a stressful routine. If you are ever in need of a quick escapade away from the bustles of everyday life, here is your solution. Join Captain Sindo to explore the hidden gems in Singapore's Southern Islands!
For those who are interested, note that the code for the "Singapore Discovery Journey" trip is SINDOSG001. With daily departure seven days a week, you can surely find the best time to suit your schedule for a one-day getaway. From around 9 am in the morning, you will get back to the main island of Singapore at around 4.15 pm. That leaves you plenty of time to have a relaxing evening to yourself after a fun day of adventure.
Additionally, this trip with Captain Sindo is valid for a limited period and it comes with limited seats too. Our passenger ferry capacity is 266 passengers and we will carry 50 passengers only. Keeping social distancing is definitely not an issue. Let's go and seize the opportunity while it is still available! This is the full itinerary of what you can expect during the day.
Ready to depart
The day begins at 8:40 in the morning, when passengers can start to board and settle in. At 9 am, the ferry leaves RFT and it would be forty minutes later that you reach Marina. Take this opportunity for some sightseeing and explore the parts of Singapore that you would not usually encounter.
The boarding gate is located on the 1st floor of Harbourfront Centre
St John and Lazarus Island
It really does not feel long until you arrive on St John Island, which is estimated to be at around 10:15. This is going to be the bulk of where you spend the day at. Previously known by its Malay name of Pulau Sakijang Bendera, this island is notorious for being an ex-quarantine island that used to house infected patients and Asian immigrants. While it has been transformed into an exotic island destination today, you could still find several government facilities here.
On St John, you can enjoy a picnic, take a guided nature walk as you get to know its unique flora and fauna, hit the beach and meet some resident cats. For those who enjoy riding bikes or scooters, it might be a good idea to cycle around the island too. It's a great way to explore the island and see all that it has to offer in less time.
St John's Island and Lazarus Island
Once you are done circumnavigating this historical island, head over to the bridge that connects it to Lazarus Island. It is an uninhabited paradise that boasts some of the nation's most beautiful sceneries. Stroll along the coastline with your friends, family or significant other. With pristine sands, many spots for an Instagram photo and serene lagoons, anyone is sure to be captivated by the beauty of Lazarus.
There is another way to explore St John and Lazarus Island on your own time. If you would like to have more time to relax here, you can take the ferry from Harbourfront Centre. Swim in the beach, build sandcastles, have a long picnic and really make the most of this tropical oasis.
Still not sure what you can do on the islands? Then you gotta read this - Fun activities to do on the St John's Island and Lazarus Island.
Traverse the extraordinary Kusu Island
When the clock strikes half past one, embarkation begins at St John terminal. You would then have 15 minutes to get on the ferry before it is on its way to Kusu Island. Sit back and enjoy the rolling waves, as the journey takes less than 20 minutes. By 2:30 pm, all passengers would have disembarked and free to explore this island!
With an hour to do so, you can visit the numerous temples on Kusu Island that speak volumes about the island's deep-rooted history and mythology. There are also plenty of lagoons and beaches to marvel at. The absolute tranquility that would envelope you here is simply magical. It is truly the perfect place to relish the natural panorama and pamper your eyes!
Kusu Island
Moreover, you may not have enough time for a full-on picnic, as most tourists enjoy doing when on Kusu Island. However, this could be a good time to take out some snacks and chat with your friends! Just do not forget to pack your rubbish and dispose them properly.
The end of a unique journey
Unfortunately, as with any good trip, this one has to end too. The ferry is set to depart Kusu Island at around 3.45 pm and head towards RFT. Thirty minutes later, you will disembark and say goodbye to the lovely ferry!
At the end of the day, it does not matter whether you are stuck in Singapore or could embark on an exotic journey overseas. With the right guide and a friendly group, you can have the trip of a lifetime anywhere! You know now about some stunning places of interests in Singapore, so why not see them all?
Remember that Sindo Ferry offers some of the most comfortable ferry journeys for you. As a long-ferry operator, we are ready to take guests on a memorable journey. From their safety to comfort, all will be well taken care of!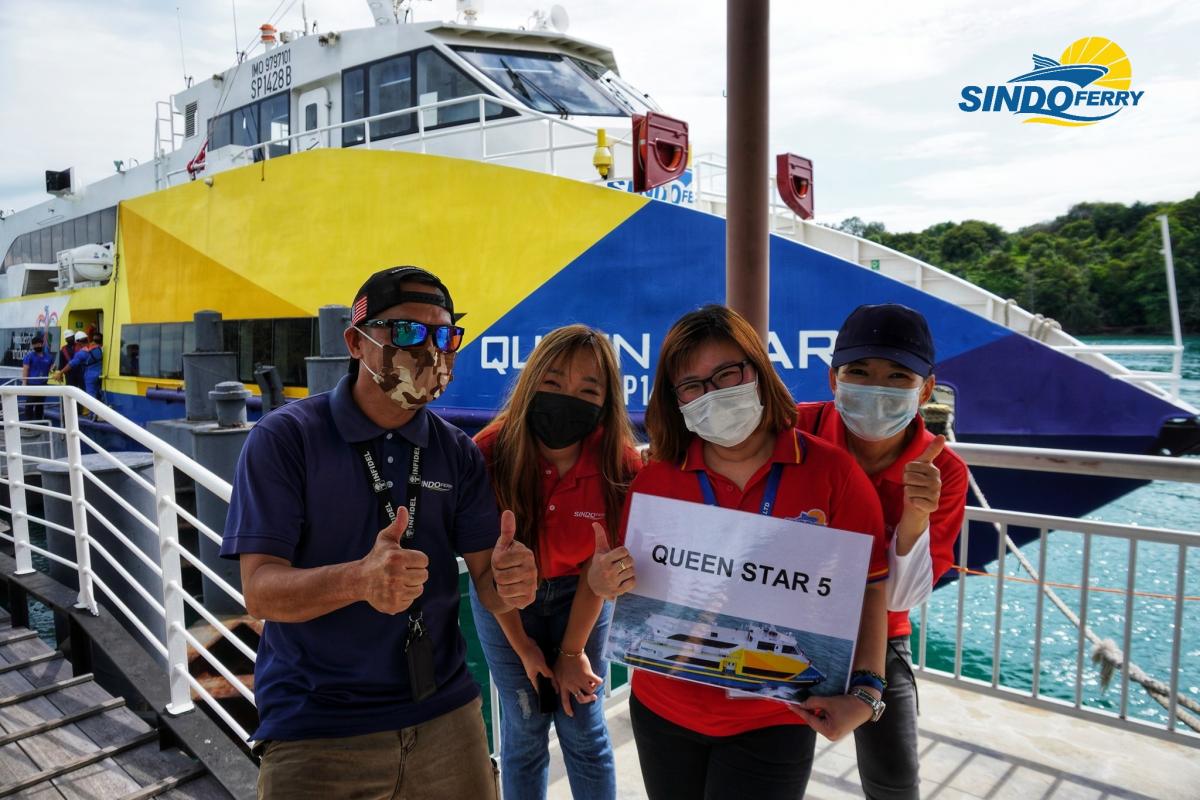 Our friendly staff are ready to welcome you onboard!
Alternatively, you could just take the ferry to St John Island from Harbourfront Centre. There is also a ferry to Kusu Island if that is where you would rather spend your vacation day! Whichever option you choose, what matters is that you have fun and travel responsibly.
Sindo Ferry is the FIRST and the ONLY ferry operator that goes to the Southern Islands (St John's Island, Lazarus Island, Kusu Island) from Harbourfront Centre.
If you would like to have a mini getaway with your family and friends, we will highly recommend you to try Singapore Discovery Journey and Singapore Sunset Voyage.
Singapore Discovery Journey departs from Harbourfront Centre everyday at 0900hrs whereas the Singapore Sunset Voyage is only available on the weekend and departs at 12:30hrs.
If you wish to book, please get it from our partner, Flamingo Travel Services.  You  have 3 options to choose from:
Buy direct from Flamingo website.  Choose the travel day and you will see the price after discount.  PayNow and credit cards are accepted.

Buy from Flamingo store on Shopee - Singapore Discovery Journey and Singapore Sunset Voyage.  Remember to apply Shopee voucher and earn coins.

Buy from Flamingo store on Lazada - Singapore Discovery Journey and Singapore Sunset Voyage.  
Get the tickets and secure your seats as early as possible because it's selling real fast!