Sail Away with Sindo Ferry
Get $2 Off Your Ferry Tickets!
Download our amazing mobile app now and enjoy a fabulous discount of S$2.00 on your 2-way ferry tickets from Singapore to Batam!
Hurry up and book your tickets with Sindo Ferry using the promo code "SINDOAPPS" to grab this incredible offer!
Whether you're planning a relaxing getaway, a thrilling adventure, or a memorable family trip, Sindo Ferry is here to make it extra special with our exclusive discount!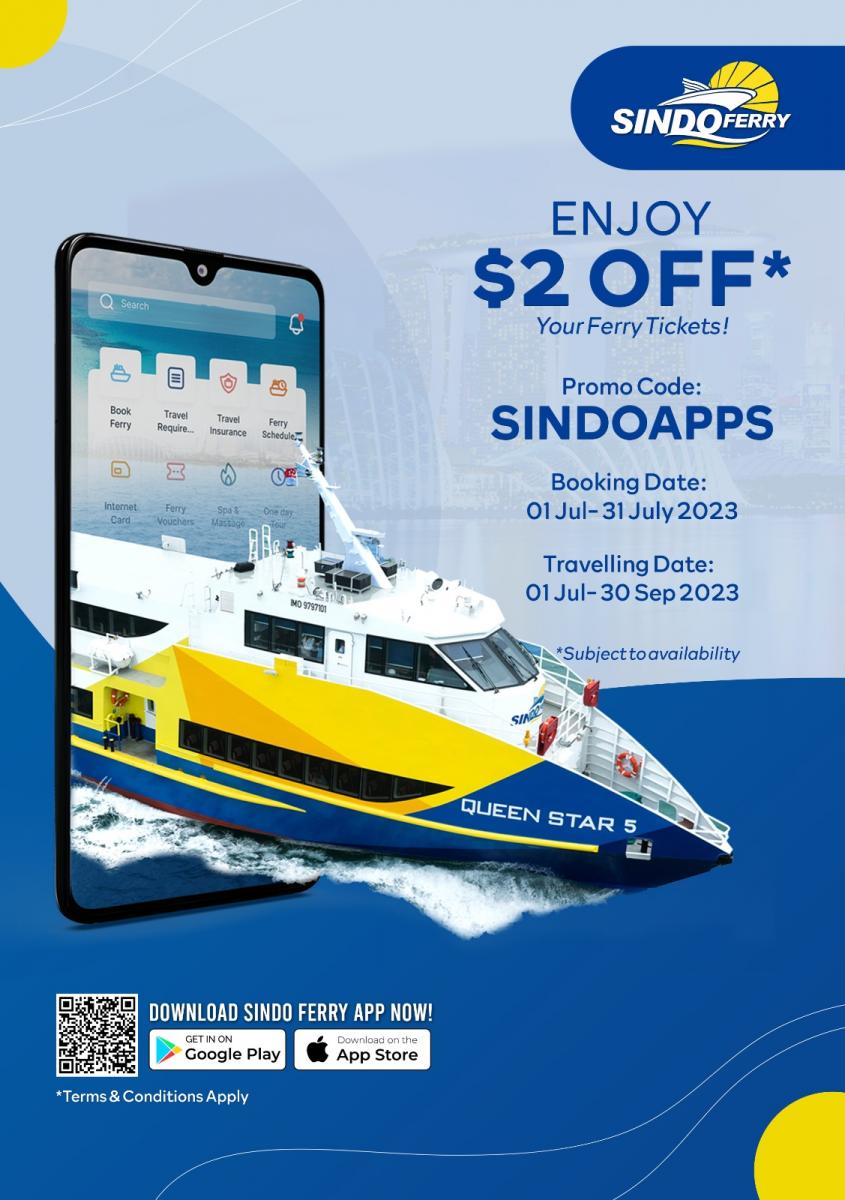 Here are the fabulous terms and conditions you need to know:
1. Discount: Enjoy a fantastic SGD2 off your 2-way ferry tickets to/from Singapore - Batam route.
2. Eligibility: All passengers, regardless of age and nationality, can avail of this awesome discount.
3. Payment Methods: You can pay with your credit cards and Grabpay (SG and MY account only) or Gopay (ID Account)
4. Limited Quota: This fantastic offer is only available for a limited number of bookings, so act fast!
5. Booking Period: You can book your tickets from 1 July 2023 to 31 July 2023.
6. Travel Period: Plan your trip anytime, subject to seat availability. It's time to set sail whenever you're ready!
7. Refund Policy: Once your payment is successfully processed, refunds are not allowed. Make sure to double-check your plans before confirming!
8. Reschedule: We understand plans may change. You may reschedule your trip with us, but please note that admin fees may apply and advance notice is required.
9. Sindo Ferry's Rights: Please keep in mind that Sindo Ferry reserves the right to modify the terms and conditions without prior notice.
10. Download Now : Currently available for download on the Google Play Store and App store. Follow us on our social media accounts for latest updates.
For booking assistance, feel free to contact us via:
Email us at booking@sindoferry.com.sg
Whatsapp us at +65 9011 3061 (message only). 
Our friendly team is always here to help you!
We value your feedback! Help us enhance your Sindo Ferry Mobile App experience by sharing your thoughts, suggestions and ideas with us. Please email us at sys.support@sindoferry.com.sg and we will carefully consider your feedback to continously improve our app. Thank you for your support.
Banner: