Not sure what you can do on the St John's Island and Lazarus Island? Find out here!
Despite being an ex-prison island and quarantine area, St John's Island is now one of the most exquisite islands in Singapore that every holidaymaker wants to visit. Getting a ferry to St John's Island from Harbourfront Centre could not be any easier. Especially with the comfort and ease that Sindo Ferry offers, you can be assured that this is going to be a memorable adventure!
Only a stone's throw away from the main island, St John's Island provides the perfect oasis for those wanting to escape the constant bustles of city life. Teeming with luscious greenery, exotic beach views and a rich history, it truly encapsulates the essence of an ideal tropical paradise.
Perhaps you are already planning a trip here, but are still unsure of what you can on this island enclave? Not to worry, as there is a heap of fun things to do on St John's Island, whether you are looking for a peaceful getaway or fun family retreat.
Go on a picnic
One of the most popular activities here is to go on a picnic. Take out your favourite picnic mat and set it against the sands or rocks. This is a truly great way to catch up with your buddies and family members, or even significant others for a romantic date.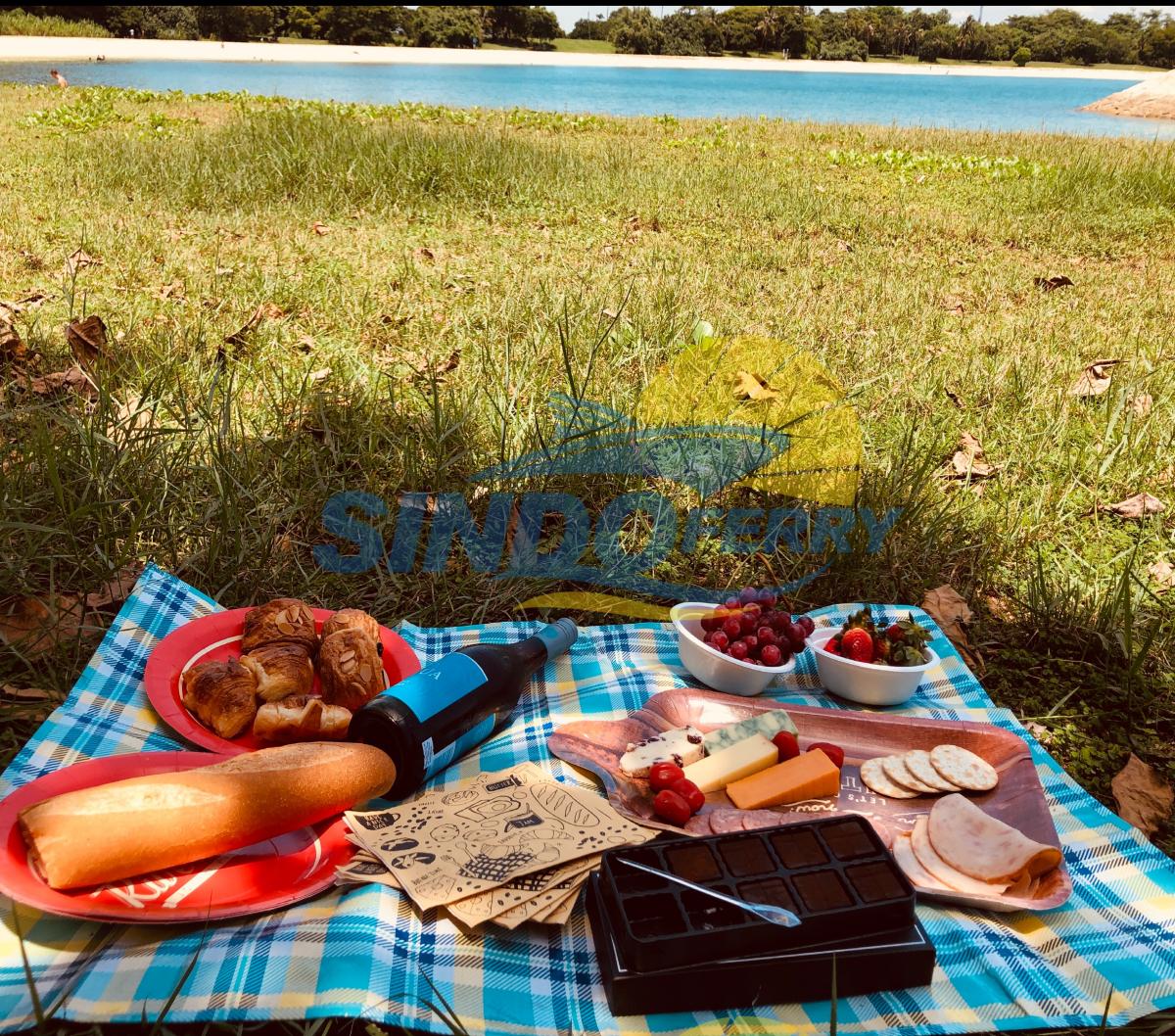 There are plenty of trees or shades where you can set up your picnic! However, note that there are no foods sold on St John's, which is why you need to remember to bring your own food and drinks.
Join a guided nature walk
This day trip destination is popular for many reasons, and one of those is its lush flora. You can join a guided nature walk to witness its mangroves and coastal plants and learn all about the island's natural resources.
Hit the beach and relax!
If there is one thing you should do on an island destination, it is to make the most out of the beach and enjoy the view. Bring a volleyball, lay back, build sandcastles and dip your toes in the saltwater.
From the coasts, you can just make out the distant skyline of Singapore. Trust us, there is nothing quite like the elegant peaks and ridges of skyscrapers against the peaceful stretch of sea.
Go to Lazarus Island
What do you know? There is a paved bridge on St John that can take you directly to Lazarus Island, another one of the Singaporean Southern Islands. This uninhabited paradise offers picturesque views of the bounteous ocean rolling against the pristine sands, as well as a gazillion of Instagrammable spots. You could expect many lagoons and a tranquil ambience too – perfect to sit back and just loosen up.
Other places of interest in Singapore include Kusu Island. The easiest way to get there is hopping on a ferry to Kusu Island!
Meet the resident cats
This may come as a surprise to you, but it seems that St John Island is known to have some resident cats. What better way to get to know the local milieu than to meet them? It is home to a warm community of cats, and it is likely that you will come across at least a couple of them during your visit. If you are fond of beautiful cats roaming around freely, then you know this is the place for you!
Ride a bike
Another way to enjoy the natural scenery and explore the island is on a bike. This could be an especially great idea if you have never tried cycling on an island. You get to cover the entire island faster while being able to see the most important and popular spots.
Enjoy the scenery
We may have insinuated this earlier on and it may be too obvious, but we simply have to state it again, if only to stress just how incredible it is. That is, to enjoy the scenery! Often, we would take for granted what is right in front of our eyes, no matter how amazing or extraordinary it is. So, this is something to keep in mind while you are at St John's.
Just pause, be in the moment and and have a quiet time by yourself (or with your friends, of course). Take in the view, appreciate that you are able to take a break from the city and make the most out of this natural phenomenon! In fact, the view on this island is pretty spectacular that it is easy to pretend that you are not in Singapore, but on an overseas trip…
Swim and snorkel
They say when in Rome, do as the Romans. So, when you're on an island, do as you're on an island! This means lots of swimming, snorkelling and playing in the ocean. There are some decent coral reefs to marvel at. Even for those who can't swim, it is a lot of fun to just splash around in knee-length waters.
BBQ
If classic picnic is not your thing, then maybe having a barbeque is a great alternative. Have a good laugh over some burgers or hot dogs, grilled vegetables and mushrooms. Rest assured, this would be something you will remember even years to come!
Likewise, remember to bring your own food and equipment as there are no foods sold here. It is also important not to leave any rubbish behind; we all need to travel responsibly.
Overall, there are many things to do on St John Island that will make your visit a special and unforgettable one. Only 6 kilometres off the main island of Singapore, it truly offers an excellent spot for a quick weekend getaway or day trip. Have a romantic retreat, a fun family outing or friends' trip. Whichever it is, remember that Sindo Ferry is ready to take you on the adventure of a lifetime!
You can book tickets for a ferry to St John's Island through our authorised sales agent, like Flamingo Travel Services. 
Sindo Ferry offers 2 type of trips as follows:
Singapore Discovery Journey which departs everyday at 0900hrs

Singapore Sunset Voyage which is only available on Saturday and Sunday and departs at 12:30 noon
If you wish to book, please get it from our partner, Flamingo Travel Services.  You  have 3 options to choose from:
Buy direct from Flamingo website.  Choose the travel day and you will see the price after discount.  PayNow and credit cards are accepted.

Buy from Flamingo store on Shopee - Singapore Discovery Journey and Singapore Sunset Voyage.  Remember to apply Shopee voucher and earn coins.

Buy from Flamingo store on Lazada - Singapore Discovery Journey and Singapore Sunset Voyage.  
Please book your seats asap and have a memorable year-end holiday with your family and friends.  Seats are selling fast!