Is there anything more wonderful than a perfect afternoon tea at sea? If you have ever dreamed of touring the beautiful islands in Singapore while being ensconced in familiar modern comforts, "Kueh and Kusu" is the trip for you. Picture yourself sipping on hot tea and nibbling on sumptuous cakes, surrounded by family and friends, while overlooking the picturesque landscape of Singapore's natural vista.
On board the premium Sindo Ferry, experience an afternoon tea as we take you along the most stunning places of interest in Singapore. Not only that, this ferry will stop at Kusu Island where you can learn the history and heritage of Singapore. Feel right at home as you stroll through its pristine beaches and gaze at the city's skyline flashing in the distance.
Kueh and Kusu by Sindo Ferry and Flamingo Travel
Experience an Afternoon of Kueh and Kusu
Following the positive response of our previous tour packages, we have planned an exciting new adventure for you. It combines the best of the island tours and Marina Coastal Delights, which includes a delightful afternoon tea on the ferry and a visit to Kusu Island.
It is unlike the island tours where you will only use the ferry as a mode of transportation. It is also unlike the Marina Coastal Delights where you can dine on board but merely drink in the view from afar. With this brand-new package, you can enjoy an afternoon tea while passing through the marina, then alight from the ferry to explore Kusu Island.
The afternoon tea consists of free flow hot tea, and there can be nothing more soothing than a warm cup of fragrant tea as the cool sea breeze gently brushes your skin. Meanwhile, a 3-tier dessert stand will carry an array of scrumptious sandwiches, cakes and kueh-kueh. Fuel up for the afternoon before you head off to Kusu Island.
With this, Sindo Ferry has become the first and only ferry service to offer afternoon tea on board. Not to mention a pre-recorded commentary to tell you about the history and background information of the surrounding islands. Rest assured, your experience will shed some light on how you view Singapore.
Overall, the trip is a 2-hour cruise and a drop off at Kusu Island, where you get around 45 minutes to explore. It does not take up the entire afternoon so that even most working people can make the most of this trip. Even so, it is still long enough for guests to fully immerse in the coastal delights that Singapore has to offer, while escaping from the stressful buzz of everyday life.
Indeed, this mini trip can be a refreshing way to unwind and treat yourself after a long week! Come on board with your significant other for a romantic escapade, take your family for a memorable time, or invite your friends for a fun-filled afternoon.
Trip Itinerary: Afternoon Tea, Sailing the Marina, and Kusu Island Visit
What can you expect from the trip? Well, the ferry departs from Harbourfront Centre, which in itself is one of the most popular ferry terminals in Singapore. For those who are taking the entire day off for sightseeing, consider dropping by the destinations nearby.
Located in a waterfront district in the south of Singapore, you can easily get here by mrt. Travel on the Circle or Northeast Line and stop at Harbourfront Station (next to Vivocity). Don't worry if you are driving to the station, as there are plenty of car parks too.
The moment you embark on the ferry, a dreamy afternoon tea setup awaits. After sailing along the marina and enjoying the tranquil landscape that unfolds around you, the ferry will stop at Kusu Island. Here, you can spend 45 minutes to roam through the place and learn more about the local culture and heritage.
Once safely in dock at Harbourfront Centre, guests can continue their indulgence and enjoy dinner there or the nearby shopping malls, including Vivocity. Meanwhile, those looking for a proper dinner and would prefer to stay on the shop without an island drop off may consider the Marina Coastal Delights -  Sunset Cruise Dinner. This sunset cruise is an excellent opportunity to have a full dinner as you sail through the seas.
Best of all, this tour package is SingaporeRediscover voucher eligible, which means everyone can experience the beautiful islands in Singapore without worry. Browse through the voucher offerings and promotions to find the perfect one for you.
Discover Kusu Island
As one of the most beautiful and well-loved islands in Singapore, stopping on Kusu Island is no doubt the highlight of this voyage. Also called Peak Island, or Pulau Tembaku in the local Malay language, it is a place teeming with folklore and local mythologies.
The word "Kusu" actually means "tortoise" in Hokkien Chinese, which relates to the legend of its formation. Stories believe that the island was created when a magical tortoise transformed itself into an island to save two shipwrecked sailors – a Malay and Chinese. The sailors returned later to give their thanks.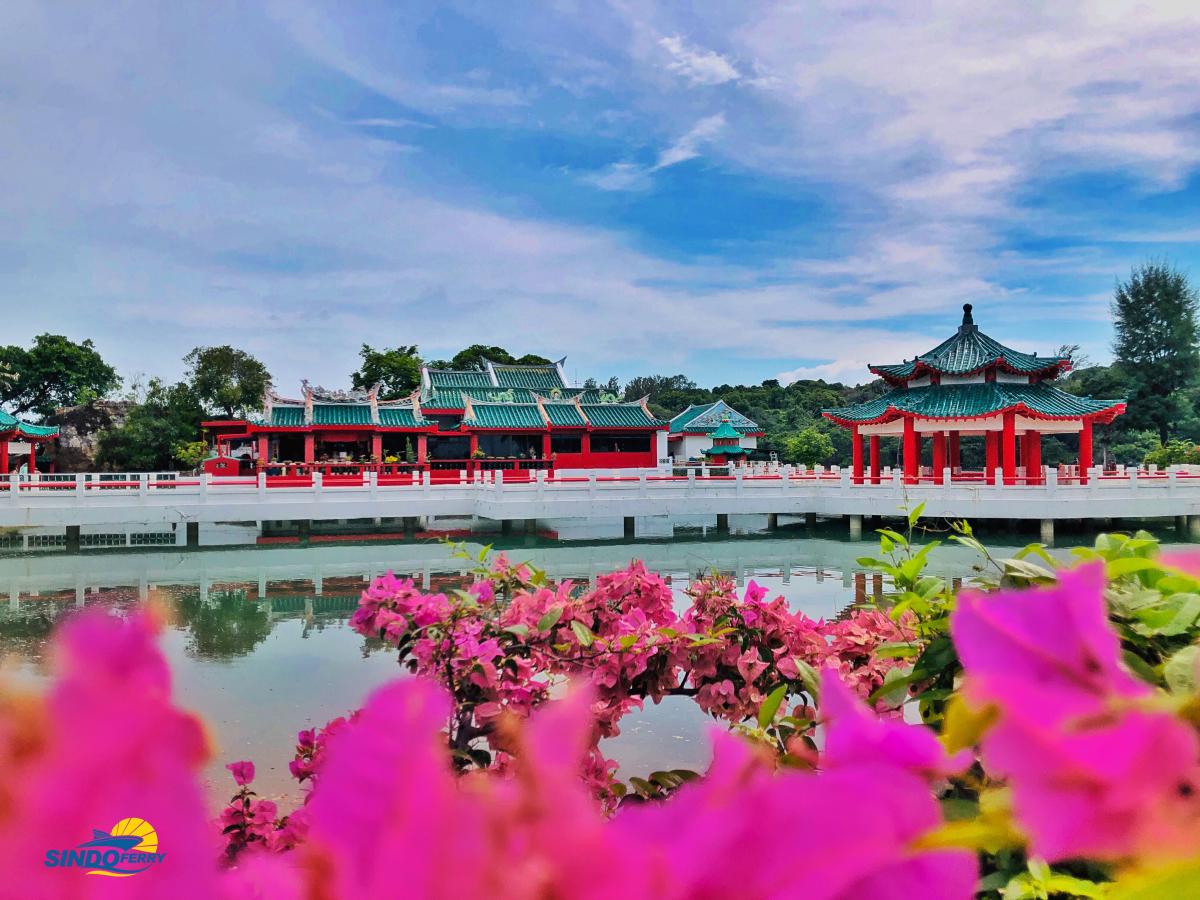 In fact, a lot of Malays and Chinese people in Singapore still come to the island during Kusu season to show their respects. The ruins of a Muslim kramat and Taoist Shrine still stand there today, which attract thousands of pilgrims each year.
While you are there, you might want to visit the Tortoise Sanctuary too, which is home to hundreds of tortoises. Watch the little creatures swim around the waters! In addition to this and the sacred temples, the island's extraordinary beaches will be enough to melt away any tension and anxiety you're feeling.
Kueh and Kusu is a once-in-a-lifetime experience for most to discover the hidden charms of Singapore's smaller islands. For those seeking a mini getaway to escape from their everyday lives, it can be the perfect trip for you.
Book your tickets now on Sindo Ferry and look forward to your next tropical island holiday!
How to Book
Why wait, purchase your tickets through Flamingo Travel Services, simply visit this direct page.  PayNow and major credit cards are accepted.  You will receive an instant confirmation.
If you would like to redeem your SingaporeRediscover vouchers, please purchase your tickets from the various authorised platforms.  Click here to view the page.