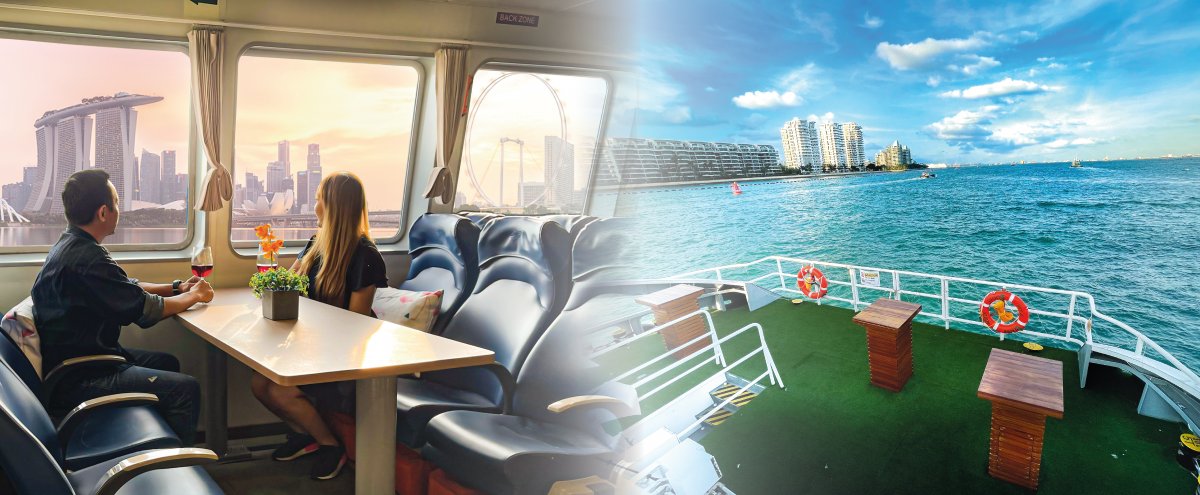 Singapore's First Dining Experience Departing From Harbourfront Centre
Come sail with us abroad our garden-themed ferry for two hours while marvelling at the breath-taking views of Singapore's marina coastline.  No extra charge for stunning sunsets!
Enjoy the fresh sea breeze on our specially outfitted open deck, while sipping your drinks and beholding the unblocked 360-degree views of Singapore's iconic landmarks.  
Your evening will be a uniquely memorable one.
So, what can you expect?
1   Uniquely romantic and nostalgic two hours cruise along our Marina Coastline and Sentosa.
2  Enjoy the Singapore's first ferry dining experience departing from Harbourfront Centre (see itinerary below).
3  Safe and comfortable ferry ride with a beautiful garden theme interior.
4  Complimentary Indonesian snacks (peyek, fishball crackers, emping).
5  Complimentary dinner and drinks (local / western / vegetarian options, see menu below).
6  Dining and unwinding while watching the sunset and enjoying the unique marina views.
7  Breathe in and feel the sea breeze from the ferry's open deck, capture special "Insta Moments" on photos and videos.
8  Create special memories with your loved ones.
Marina Coastal Delights Itinerary:
17:40hrs            –  Boarding commences.  (Harbourfront Centre – Level 1)
18:00hrs            –  Ferry departs from Harbourfront Centre
18:00 to 19:30    –  Dine, relax and enjoy the stunning sunset and coastal views
20:00hrs            –  Return to Harbourfront Centre
Marina Coastal Delights Dinner Menu (click here to view the full menu):
(please choose one per pax)
A  Chicken Teriyaki with roasted potatoes, fried gyoza and refreshing salad
B  Fried rice with roasted potatoes, fried gyoza and refreshing salad
C  Mushroom carbonara pasta with roasted potatoes, fried gyoza and refreshing salad (vegetarian)
*all our meals are Halal-certified
HOW TO BOOK
Why wait, purchase your tickets through Flamingo Travel Services, simply visit this direct page.  PayNow and major credit cards are accepted.  You will receive an instant confirmation.
You can also purchase your tickets on Shopee or Lazada, which are managed by our partner, Flamingo Travel.
For Lazada, please visit Lazada product page and if you prefer to shop on Shopee, please visit this Shopee product page.
If you would like to redeem your SingaporeRediscover vouchers, please purchase your tickets from the various authorised platforms.  Click here to view the page.
You may also like:
1. Singapore Discovery Journey
3. Marina Coastal Delights - Kueh and Kusu
If you are a licenced travel agent (individual or corporate) and are interested in selling our products, please email us at sales@sindoferry.com.sg and our team will contact you soon!  
Things to note
Covid-19 Safe Management Measures
Ferry is regularly sanitised and all our service staff are fully vaccinated.
Passengers must adhere to our Safe Management Measures.
Please continue to wear your mask if you are not drinking or eating.
Please do not mingle with passengers from other tables or form a large social group while onboard the ferry even though you belong to the same household.
The number of passengers is limited to 50 pax per trip.
Table Arrangement & Seat Assignment
When you board, you will be shown to your table.
Please note tables are fixed and are arranged to ensure adequate social distancing between passengers.
Please follow our seating arrangement.
Window seats are not guaranteed and table sharing may be arranged (with safe distancing).
Please let us know in advance if special assistance is required (passengers with reduced mobility or the use of a wheelchair).
Children Policy
Children above 6 year old are welcome onboard and they must be accompanied by an adult.
Children menu is available upon request.
Menu and Dietary Requirements
The menu is subject to change depending on the season and availability of ingredients.
Vegetarian option may be available. Please let us know in advance if you wish to indulge in a vegetarian menu.
Products may incude nuts or trace of nuts.
For any special dietary requirements or restrictions, please contact us at booking@flamingo.com.sg and additional charge may be imposed.
Our food is halal certified.
Beverages (soft drinks and alcoholic drinks) are available for purchase.
THIS IS A NON-SMOKING FERRY