Let's Discover St John's Island with Captain Sindo
Saint John's Island, sometimes known as St John's Island, is one of the islands that make up the Southern Islands of Singapore. You may be surprised to know that there are 64 offshore islands in Singapore surrounding the main one. But yes, this means the country has more to offer than the bustling metropolitan city we have known!
Saint John's Island provides a popular getaway destination for many tourists – local and international alike. Featuring beaches, swimmable lagoons, picnic spots and trekking routes, it is not a surprise that many would be entranced by this exquisite destination.
Getting to know Saint John's Island
Formerly known known as Pulau Sakijang Bendera in its Malay name, this tropical island is located around 6.5 km off the south of the main Singapore island. Its history dates back to 1819, when it was the site for Sir Stamford Raffles' moorage.
It also used to house a quarantine cases for immigrants infected with cholera in the late 19th century. In 1901, beri-beri victims were sent to the island too. By the year of 1930, St John's island was globally known as a quarantine centre for Asian immigrants. When mass immigration was banned in the middle of 20th century, the island became a drug rehabilitation centre.
But all the history set aside, it has been completely revamped and is now a beloved destination for holiday makers! Since 1975, this 40.5-hectare hilly island became a serene oasis for travellers.
However, there is still a detention centre for illegal immigrants located here, as well as several more government facilities. You can also find the Tropical Marine Science Institute, a Marine Aquaculture Centre for the Agri-Food & Veterinary Authority (AVA) of Singapore.
Rediscover Singapore through St John's pastoral beauty
There are plenty of things for one to do at Saint John's island. The rustic and sylvan rawness of this haven will allow you to rediscover Singapore in all its natural beauty and grandeur.
It is really an excellent spot to forge special memories with your friends and family. From lagoons and pristine beaches, to exciting picnic grounds and exhilarating trekking routes, you will find no end of activity to keep you occupied and engaged.
In terms of accommodation, you can book holiday bungalows and bunks that come with a basic kitchen – these can accommodate up to 60 people. Or you can simply visit for half a day to escape the hectic lifestyle of urban Singapore.
The St John's Island Trial and the Sisters' Island Marine Park Public Gallery are also two spots worth a visit if you ever stop by St John's. Furthermore, many people also enjoy leisurely fishing here.
Other places of interest in Singapore
Here's more good news. There are other places of interest in Singapore within proximity of St John's. This means you can visit multiple destinations in one go!
For instance, you can easily cross a bridge to Lazarus Island, which is an uninhabited island with stunning views and various Instagrammable spots. Away from the bustles of the city, it can be a tranquil oasis for you to unwind and soak in the majesty of nature. Note that there are no toilets and dustbins on Lazarus Island, so visitors would have to bring their own recycling bag. Please be a responsible traveller and do not leave anything behind.
Meanwhile, Kusu island is around 20 minutes away from St John's Island, and it is a must-visit for those interested in local myth and folklore. Wander through the numerous sacred sites, visit the Tortoise Sanctuary and enjoy a picnic or barbecue with your family. If you'd like to find out more about fun activities on St John's Island, please read this article!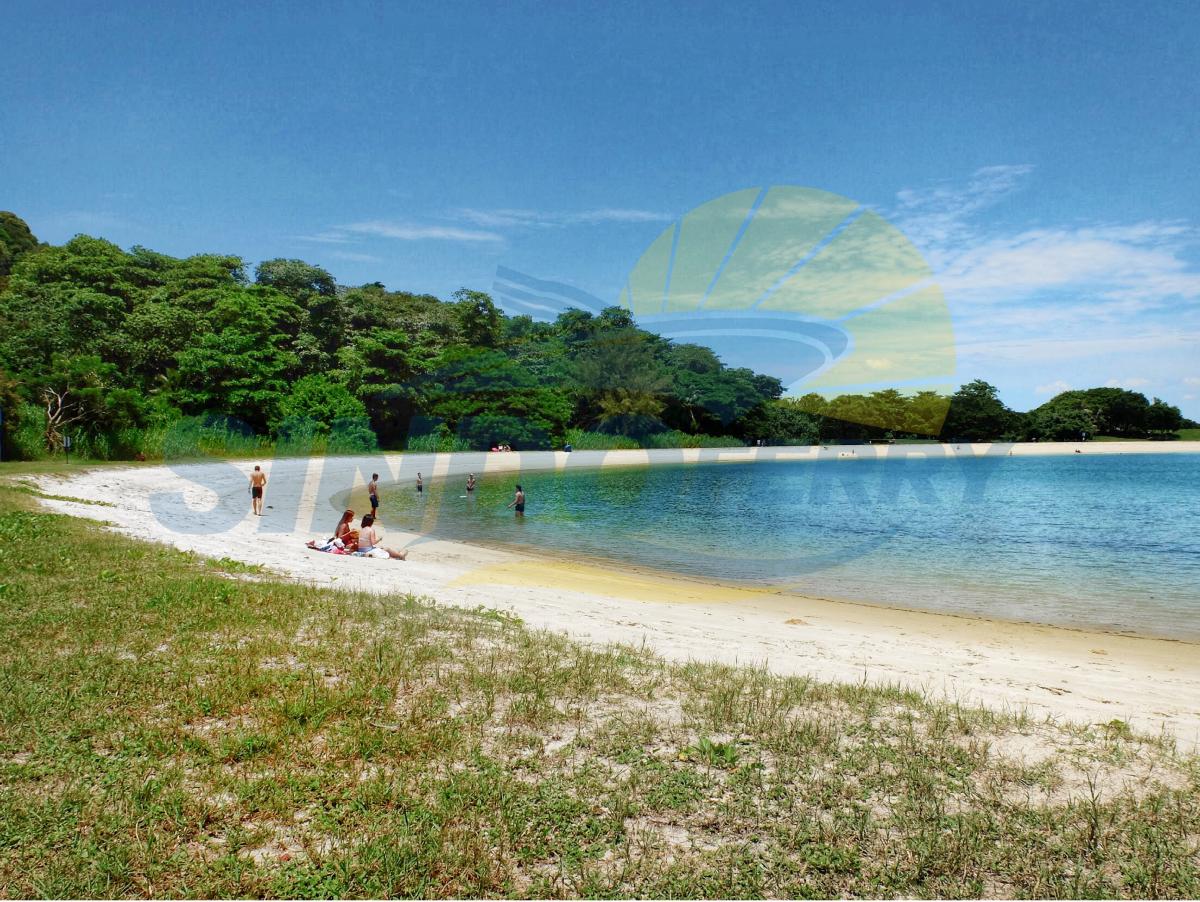 How to reach Saint John's Island?
Maybe you've decided to drop by St John's Island and wondered how to get there? Well, there really is no better way than hopping on a ferry to St John's Island! While there are many ferry operators in Singapore, Sindo Ferry is the first and only ferry operator that provides ferry services to Saint John's Island.
Sindo Ferry will depart from Harbourfront Centre and take you to Saint John's Island. This is because Harbourfront Centre has more parking lots compared to Marina South Piers, which is a definite plus point for visitors like you! Plus, there are a lot of eateries around the area so you can grab a quick bite before the journey.
You might also want to know that Sindo Ferry operates the largest ferry in terms of passenger capacity. We offer one of the most luxurious ferry experiences in Singapore without charging an exorbitant price. That is right! You can enjoy a taste of opulence without breaking the bank at all. Even better is the fact that the ferry has been built directly in Singapore – a testament to our commitment and support for local businesses and economy.
There is no need to worry about your safety or comfort throughout the entire journey. SIndo Ferry prides itself in its long-standing history of more than 20 years. This cumulative experience in the hospitality industry ensures that you will be in good hands. Our staff upholds the highest standards of safety protocols and customer service. So, sit back and relax as you watch the ocean waves lulling the ferry away.
All in all, if you are in need of a quick weekend getaway far from the business of the city, there is a perfect destination only a stone's throw away from the main island of Singapore. Captain Sindo is ready to take you to explore the spectacular St John's island. Traverse its pristine sands, discover the island's unique history and seize the moment with your loved ones here.
What are you waiting for? Get your ferry tickets on the Sindo Ferry website or sales agent and get to St John's Island from Harbourfront Centre in no time.
You can book tickets for a ferry to St John's Island through our authorised sales agent, like Flamingo Travel Services. 
Sindo Ferry offers 2 type of trips as follows:
Singapore Discovery Journey which departs everyday at 0900hrs

Singapore Sunset Voyage which is only available on Saturday and Sunday and departs at 12:30 noon
If you wish to book, please get it from our partner, Flamingo Travel Services.  You  have 3 options to choose from:
Buy direct from Flamingo website.  Choose the travel day and you will see the price after discount.  PayNow and credit cards are accepted.

Buy from Flamingo store on Shopee - Singapore Discovery Journey and Singapore Sunset Voyage.  Remember to apply Shopee voucher and earn coins.

Buy from Flamingo store on Lazada - Singapore Discovery Journey and Singapore Sunset Voyage.  
Please book your seats asap and have a memorable year-end holiday with your family and friends.  Seats are selling fast!