Singapore's COVID-19 Vaccination Programme 
When the Coronavirus pandemic first hit, it rattled the entire world. Borders closed, flights were stopped, cruises docked, restaurants and hotels shut their doors, and people locked themselves at home. We went into lockdown, and it was as if time had stopped. From Singapore to Rome, from global airlines to Sindo Ferry, nobody was exempt.
The good news is that the Covid-19 vaccination in Singapore is well under way through a program from the Ministry of Health aiming to protect its citizens. Are you eligible? What is the response so far? And what can we look forward to soon?
Today, we wanted to review what we know about the Singapore vaccination and why the future is looking brighter!
When did it start?
Mass vaccination in the country began at the start of 2021, marked on the morning of January 8 when Prime Minister Lee Hsien Loong received his first dose of the vaccine. Along with the Health Ministry's director of medical services and 88 employees at the Singapore General Hospital, they aimed to encourage more people to get the vaccine.
The target had initially been healthcare workers and the elderly but will move down the age group as more vaccines roll out. Additionally, vaccination is free for every Singaporean and long-term resident. This government program seeks to protect people and jobs as the country slowly reopens.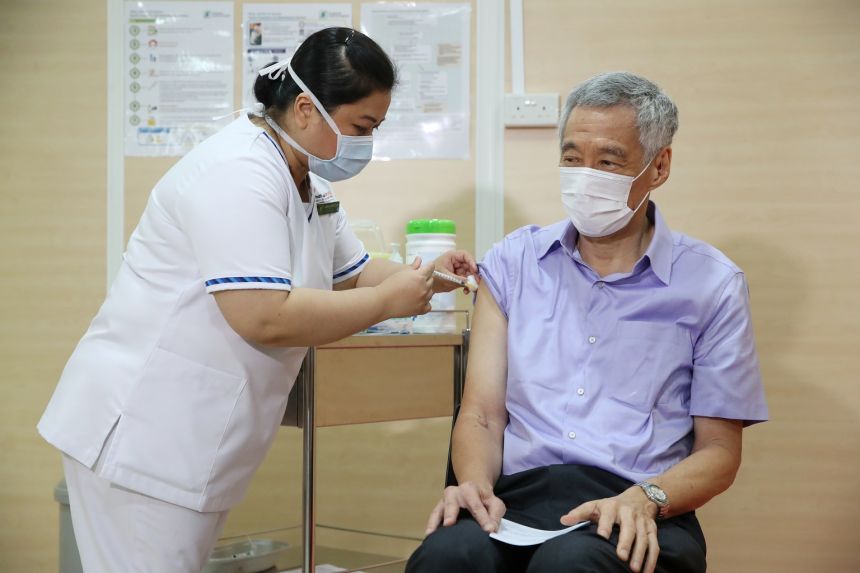 Photo credits to Ministry of Communication and Information
Which vaccines are available?
As most of us know by now, there are several types of vaccines for Covid-19. It includes Pfizer-BioNTech, which was the first ever vaccine safe for public use, Moderna from the United States, AstraZeneca, Sinovac, Novavax, and a few others. All of these vaccines have passed multiple clinical trials and are proven to be both safe and effective.
If you are in Singapore, the two vaccines available are the Pfizer-BioNTech and Modern vaccines. But what are their differences? Both Pfizer and Moderna were made using mRNA and can activate the immune system so it could develop antibodies to fight the virus.
They also show a similar degree of efficacy, with two doses of the Pfizer vaccine having 95% efficacy at preventing infections, and the Moderna vaccine at 94.1%. In terms of side effects, you may feel some muscle or joint pain near the injection area, especially after the second dose.
Photo credits to REUTERS
The vaccination so far
As of June 7, 2021, 2,503,814 people residing in Singapore have received at least the first dose of vaccination, while 1,888,253 have completed the entire regimen. It means that 43.9% of the entire population have had their first dose and 33.1% are fully vaccinated.
Considering how the program has been going so far, and if things continue according to plan, we can expect the entire adult population to receive the first dose of vaccination by early August 2021. The second dose will be administered six to eight weeks after that, which means it won't be long after everyone is fully protected by the vaccine.
The national response to the Covid-19 vaccination has also been quite positive. Most people who have not been vaccinated are upholding stringent safety measures, while those who already receive their first doses are doing the same. If things remain unchanged, we can imagine that a post-pandemic world is just around the corner!
What to look forward to
As more doses roll out and more people receive vaccination, it is not far-fetched to imagine a new normal very soon. No more social distancing and strict protocols. We can once more meet with friends we have not seen in over a year and visit places that have been closed down.
Not only that, we can once more travel safely, both locally and internationally, without worrying too much about getting infected and endangering the people we love. Picture yourself engaged in a community again, talking freely to strangers and exchanging hugs with people.
Vaccination at Sindo Ferry
We have good news, because the entire Sindo Ferry staff have been fully vaccinated early this year. The team takes the pandemic seriously and always puts the health and safety of both guests and crew as our priority.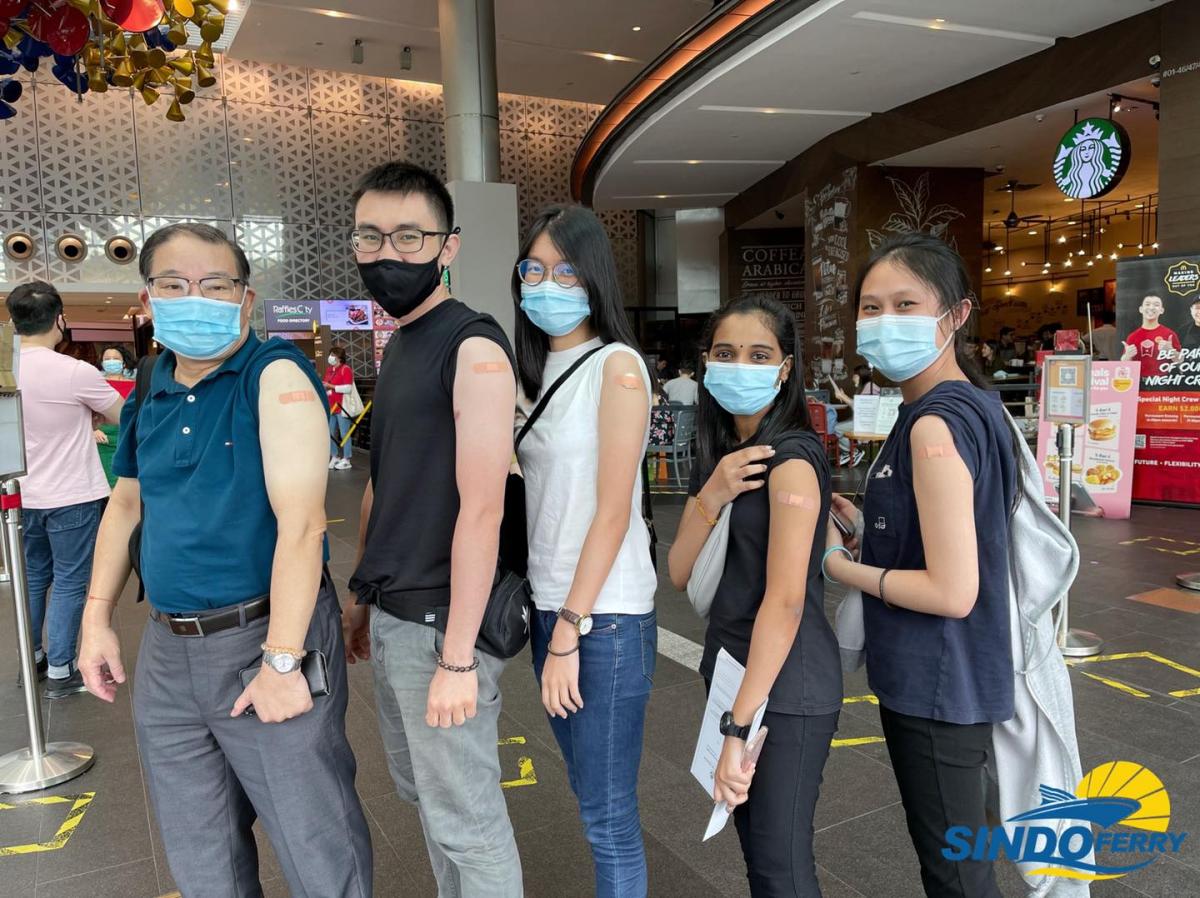 Moreover, our ferries are regularly sanitized, while strict safety protocols are in place in each and every one of our trips. We encourage everyone to do their part in keeping Singapore safe, so that we can enjoy normal lives again.
Sindo Ferry has been operating regular ferry services around various places of interest in Singapore since 1999. The local company has a passion for taking local and international tourists to the beautiful islands in Singapore, so that more people can appreciate and benefit from the country's natural charms.
Destinations like Lazarus Island, St John Island, and Kusu Island are perfect for a quick getaway. The main island has always been a place of city lights and constant hustle, which can be taxing for your mental health and wellbeing. Why not give yourself a well-deserved trip by heading over to Harbourfront Centre and hopping on one of our ferries? Life is more than just work; it is also enjoying the little things and moments.
Packages such as the Marina Coastal Delights are great to escape the non-stop stressors of everyday life. You can sit back on a lavish setting and sail along the marina as you feast on a sumptuous dinner or enjoy an exquisite afternoon tea. Look at the gorgeous islands on one side and the towering cityscape on the other, all while the sun dips into the horizon and the sky turns from warm orange to a starry canvas.
In addition, all our tour packages are SingaporeRediscover vouchers, so do not worry about the price! We're sure everyone can find something suitable for them, exactly when they need.
As the vaccination program in Singapore continues, we sincerely hope that the country and the rest of the world will soon recover from this arduous time. Sindo Ferry will keep up its mission to provide affordable and reliable ferry services in destinations around Singapore.
Note: We do our best to provide an update on Singapore's Vaccination programme and we apologise if there is any error or discrepancy found in the article.  Please write to us  at feedback(at)sindoferry.com.sg if you have any suggestions.
Thumbnail photo credits to IMC-healthcare