Before you hop on a ferry to Batam and have the most unforgettable vacation there, you should know that Indonesia is famous for its mouth-watering snacks. From various fried goods to indulging desserts, there's something for everyone. Before we jump into this guide, remember to check Sindo Ferry schedule for the most up-to-date ferry information!
You can buy a lot of traditional snacks from areas near the Batam Centre Ferry Terminal. This means you can immediately get a taste of local Indonesian cuisine as soon as your trip from Harbourfront Centre ends. For example, the Grand Batam Mall is only 15 minutes' drive away.
To help make the most of your trip, here's the ultimate beginner's guide to traditional Indonesian snacks.
Martabak Telur (Savoury Egg Pancake)
The first traditional snack you should try is one of the country's staple and go-to street food, martabak telur. This is essentially a fried savoury egg pancake filled with seasoned ground meat, herbs, green onions and of course, egg. The chefs would lay out a thin piece of the dough and add the filling inside. The martabak is then fried on a large flat pan or iron griddle using tons of vegetable oil. It's typically eaten on its own as a snack, but some people also enjoy serving it with rice for a quick lunch or dinner.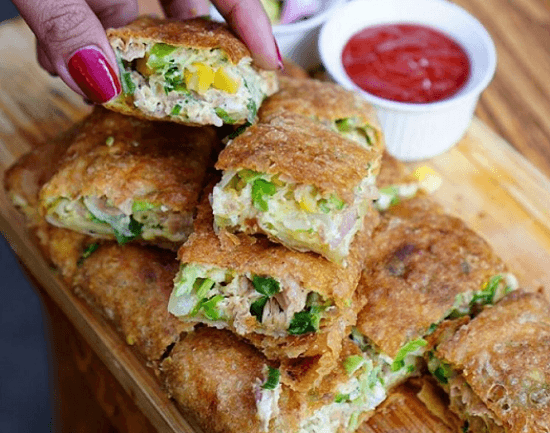 Credits to Selerasa.com
Martabak Manis
This is another variety of the martabak, which is a sweet Indonesian pancake with various toppings. It's usually over-the-top and loaded with so much calories, making it the one of the country's favourite guilty pleasure. If you've never tried this, imagine a crumpet-like texture of chewy dough and various sweet fillings.
Baked on pan and slathered with generous amounts of butter, the classic martabak combination would be crushed peanuts, chocolate sprinkles and cheese. Once cooked, the martabak is usually folded in half so the fillings are sandwiched by the dough. New varieties of flavours can include Nutella, Oreo, red velvet, matcha and branded candies like Snickers and Kit Kat.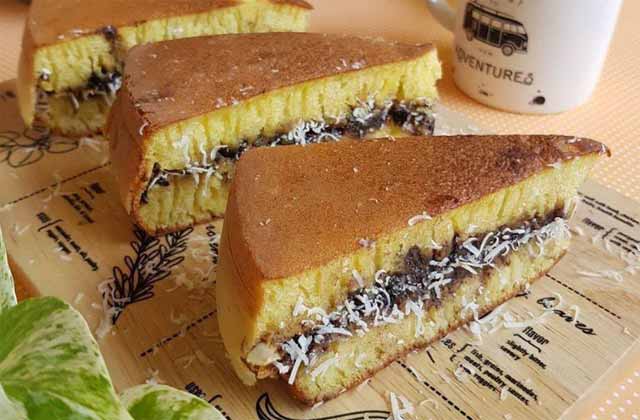 Image by @dapoersikoko (Instagram)
Did you know that Indonesia President Joko Widodo's eldest son owns a successful martabak cafe called "Markobar" with over 30 outlets across the archipelago?
Gorengan (Indonesian fritters) 
If you are more of a savoury snacker you should try some Indonesian fritters, or gorengan as it is more commonly known. The most common fritters are pisang goreng (fried bananas), tahu isi (filled fried tofu), cireng (fried aci – chewy sago-like texture) and tempe goreng (fried tempeh).
This is perhaps the cheapest and most common street food, although you can also get them in restaurants. These can be sold for as low as Rp 1.000 per piece!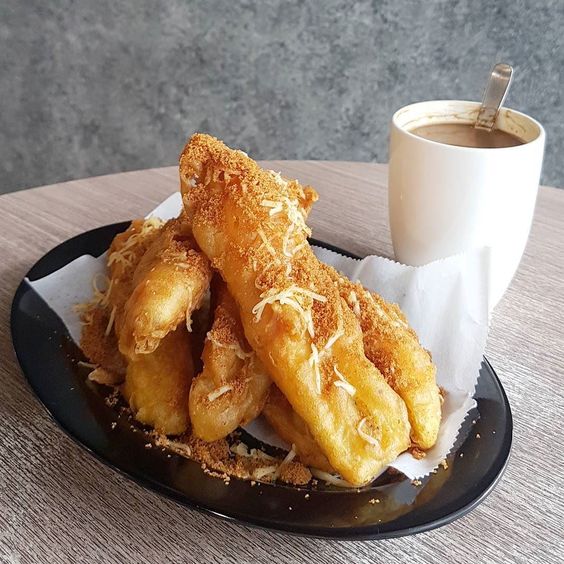 Image by @sabaheats (Instagram)
Kue lapis 
This next snack is also a must-try and your Batam trip won't be complete without first eating the iconic kue lapis or layer cake. It is a unique layered dessert that's very soft, buttery and sweet. Kue lapis can also last a few weeks, which means you can buy it to bring back home with you!
There are many places you can get kue lapis, from supermarkets to local specialty bakeries. However, we do recommend that you visit Mr Ong Bakery for a delicious treat. Prices can range from Rp 160.000 to 360.000, depending on the variety and size that you choose.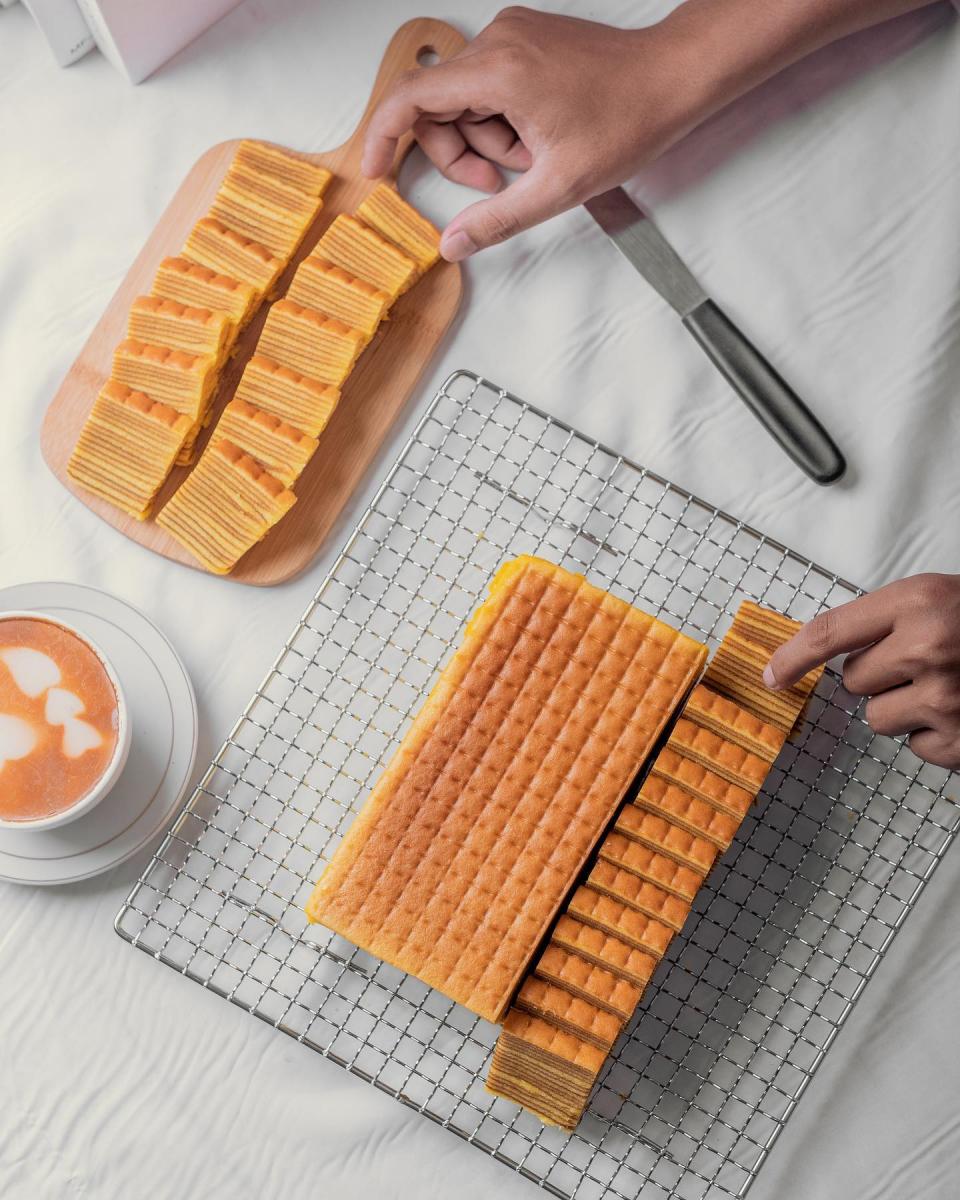 Kue Lapis from Mr Ong's Bakery Facebook 
Lemper
Lemper is a savoury snack made from glutinous rice filled with shredded fish, chicken or beef floss. It is served and wrapped in banana leaves or corn husk to make the rice more fragrant. The glutinous rice itself has been soaked in coconut milk and salt while the filling seasoned with various herbs. After wrapping it in leaves, it's then steamed or grilled.
You can get lemper from any traditional market, street vendor and most supermarkets starting from around Rp 5.000. We do say that's a deal for a quite filling snack!
Image by Resepkoki
Serabi
There are many variations of serabi, but it's essentially a batter of rice flour and coconut milk cooked on a pan over charcoal. The most classic way to enjoy this snack is plain with a brown coconut sugar syrup. However, you can now find those topped with peanuts, bananas, grated cheese and even cream cheese! Some also adds pandan extract for additional fragrance and a greenish colour.
Image by Kompasiana
Bika Ambon
Bika ambon is a traditional dessert originating from Medan but has spread around the country including Batam. It's a type of cake made with tapioca flour, yeast, coconut milk, egg and sugar. It has a unique sponge-like texture with holes and a springy chewiness when you bite into it.
It can be difficult to describe how it tastes, so your best bet would be to try it yourself! The original or pandan flavour are the most popular and recommended, but you can also get banana and durian variants too, among others. Depending on size and where you get it, it can cost you anywhere from Rp 30.000 to over Rp 110.000.
Kue bika ambon (Foto:Ilustrasi/Resepku.me)
Bakso
Bakso is another favorite local snack, which is basically the Indonesian version of your typical beef ball. What truly stands out from this dish is its delicious savoury soup. Served with your choice of yellow noodles or vermicelli, green onions, fried shallots and chilli, it's perfect for a midday meal. If you buy this from street vendors, you can enjoy a hearty bowl of bakso for only Rp 10.000!
Pempek
Lastly, we have pempek, a savoury fishcake delicacy that's usually fried and served with a vinegary sauce. The main ingredients are fish and tapioca, but pempek has an array of iconic shapes and fillings, from egg, fish skin, to plain dough in curly shapes. Another cheap snack, a single piece of pempek will cost you only around Rp 5.000!
Empek Empek Ikan Tenggiri, Resep dan FotoL @dewiemodesto, Editor Resep: Marti
There you have it, some of the most famous traditional Indonesian snacks you should try. Although this guide refers to specific places in Batam, you can get most of these in other Indonesian cities too. This includes Bintan, which you can reach from Tanah Merah Ferry Terminal.
Sindo Ferry offers Bintan and Batam ferry promotions so you can enjoy a holiday even when you're on a budget. There's even a special NTUC discount for those who are cardholders. So, what are you waiting for? Let's book your ferry tickets and eat your way through these Indonesian snacks!
Our ferry operations has been temporarily relocated from Harbourfront Centre to Tanah Merah Ferry Terminal.  We depart everyday to Batam Centre Ferry Terminal.  You can still get tickets from Singapore to Batam or Batam to Singapore from our website at www.sindoferry.com.sg
If you wish to travel to Tanjung Pinang, Bintan Island, you may want to consider taking Sindo Ferry to Batam and proceed to take domestic ferry from Batam to Tanjung Pinang. 
If you want to receive latest travel announcements from us, please subscribe to our mailing list.  Click here to join.