The Regional Ferry Terminal at Harbourfront Centre
The Harbourfront Centre is a combination of a shopping mall and a ferry terminal. Built in 1977, it has always been a busy terminal mainly serving passengers from Singapore to Batam. In 2000, Harbourfront Centre was renovated and upgraded to include an MRT station, which makes it even more accessible. 
Harbourfront Centre, who used to be known as World Trade Centre, is most popular for its ferry terminal, but this iconic building has a complete shopping centre with a direct connection to the famous VivoCity. Connected with Harbourfront Centre, there are also office spaces at the Harbourfront Towers. 
The Harbourfront Centre ferry terminal is one of the three ferry terminals in Singapore operated by Singapore Cruise Centre. Singapore takes pride in having the best transportation system in the world. When you are travelling under Singapore Cruise Centre, you do not have to worry about safety and delays.   
There are different types of ships and ferries departing from Harbourfront Centre ferry terminal. Besides the Singapore ferry to Batam, there are other ferries serving different routes every hour of the day.  If you are planning to get ferry tickets to Batam and other destinations from Harbourfront Centre, make sure to plan your trip beforehand. There are many interesting places and activities to do around Harbourfront Centre, you can also reserve your accommodation in advance. Finally, do not forget to get the best deals for your ferry tickets.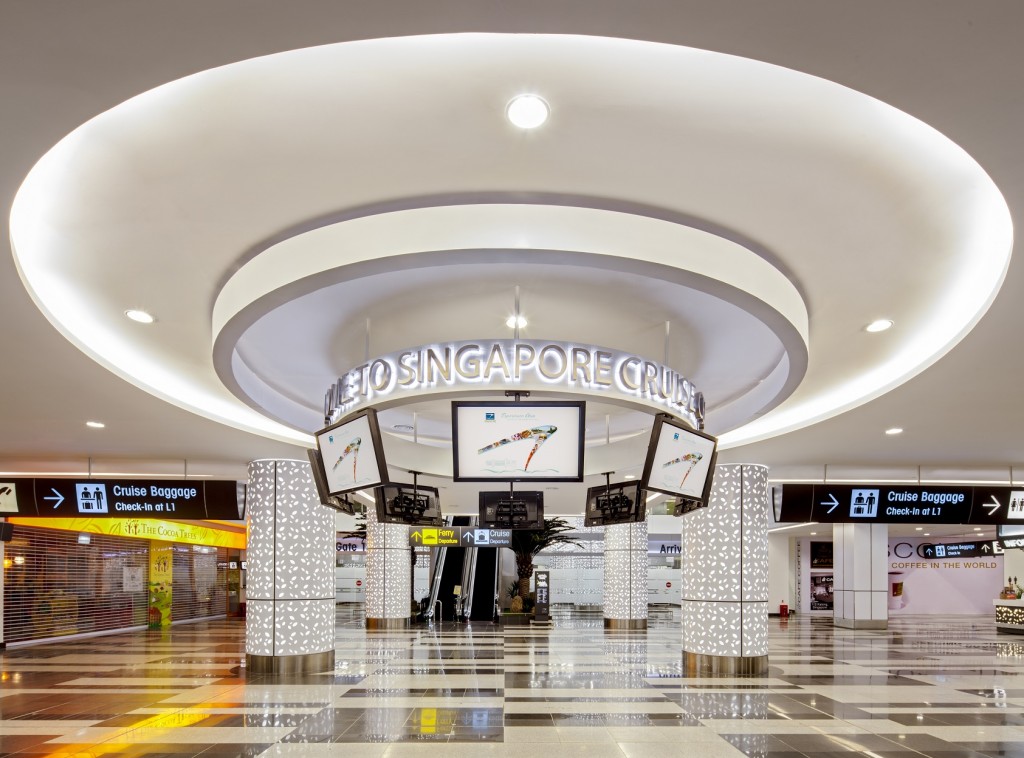 Photo credit to Singapore Cruise Centre
Which ferry to take?
Whether you are looking for Batam ferry tickets or a short trip to Tanjung Balai Karimun, we recommend getting a ticket from Sindo Ferry. It is one of the best and oldest ferry operators in Singapore. Every hour, Sindo Ferry has at least one ferry departing from Harbourfront Centre to various destinations.
Sindo Ferry has been operating since 1999. For more than 20 years, their ferry has been known for transporting passengers to Batam at an affordable price. From Harbourfront Centre, there are regular ferry services going to a wide range of destinations, including Sekupang Ferry Terminal, Waterfront City (Teluk Senimba), and Batam Centre Ferry Terminal. Sindo Ferry also have 2 trips each day to Tanjung Balai Karimun. 
Other than that, Sindo Ferry also has many arrivals from Batam ferry terminals and other places. If you are planning to purchase returning tickets, we recommend booking them ahead of time as our ferries in Harbourfront Centre are usually in high demand. Plus, you might get a better deal too.
Where is the Harbourfront Centre located?
Out of all 3 ferry terminals operated by Singapore Cruise Centre, the Harbourfront Centre Ferry Terminal probably has the best location. Located in Maritime Square, Harbourfront Centre is always the first choice for Singaporeans living in the city centre. Passengers going from Batam to Singapore often opt to arrive at Harbourfront Centre as it is conveniently located near multiple tourist attractions.
Each year, Singapore receives millions of visitors, be it tourists, workers, or businessmen. From their neighbouring country of Indonesia, the harbours welcome visitors coming via a Batam ferry. For people in Batam, Singapore is not only a shopping paradise, but a country with endless job opportunities and better healthcare. If they are coming for these reasons, they will usually go to Harbourfront Centre as it provides a direct route to their destinations.
Harbourfront Centre has its own MRT station that can easily take them anywhere in Singapore. The terminal is also located just across Sentosa which is a famous attraction. Thus, arriving in Harbourfront Centre instead of Tanah Merah Terminal will definitely save you a lot of time.
If you are looking for a transit to the airport, we recommend getting a ferry to Tanah Merah Ferry Terminal instead of Harbourfront Centre. Tanah Merah Ferry Terminal is much closer to Changi Airport. Still, if you happen to be arriving in Harbourfront Centre, the Harbourfront Centre MRT can take you directly to the Changi MRT station. 
Fastest route to Harbourfront Centre
Depending on where you are in Singapore, there are many different ways for you to reach Harbourfront Centre. One of the best and affordable options is going by an MRT to the Harbourfront Centre MRT station. Another cheap option would be the shuttle service that operates daily.
Other transportation such as taxis are always available, while it may be quick and convenient, remember that it will cost you a lot more money. If you are travelling with your own vehicle, you can always rely on Google Maps to lead your way towards Harbourfront Centre. 
Meanwhile, if you are coming to pick someone up, the arrival hall is located on the first floor. For departures, you can head straight to the second floor. Remember to buy your tickets ahead from the Sindo Ferry counter on the 3rd floor - unit #03-43 at lobby C.
Where to stay?
From high-end hotels to budget rooms, there are a wide variety of options for accommodation around Harbourfront Centre. If you have a flexible schedule, we recommend staying in Sentosa where some of the best hotels and resorts like Sofitel and Hard Rock are located. Sentosa is only a cable car away from Harbourfront Tower 1, so commuting will not be a problem.
Closer to the terminal, one of the best hotels is the InterContinental Singapore. Alternatively, you can book a room in Holiday Inn or Travelodge Harbourfront for the more affordable options.
Activities around Harbourfront Centre
Connected to Harbourfront Centre is VivoCity, undoubtedly one of the best malls in Singapore. Besides an array of shopping options, you can also watch a movie in the cinema or drop your kids off in one of the playgrounds or at timezone. For a calmer environment, you can simply head to the library or maybe have dinner at some of the best restaurants in Singapore, including Hai Di Lao, Beauty in a Pot and many more. 
Photo credit to VenueExplorer
As you can see, Harbourfront Centre is one of the best ferry terminals in Singapore. It is close to the city centre and popular destinations such as Sentosa Island. If you are not coming for only a transit, there's plenty of reason to arrive via Harbourfront Centre for your next ferry trip!
Our ferry operations has been temporarily relocated from Harbourfront Centre to Tanah Merah Ferry Terminal.  We depart everyday to Batam Centre Ferry Terminal.  You can still get tickets from Singapore to Batam or Batam to Singapore on our website at www.sindoferry.com.sg.
If you want to receive latest travel announcements from us, please subscribe to our mailing list.  Click here to join.