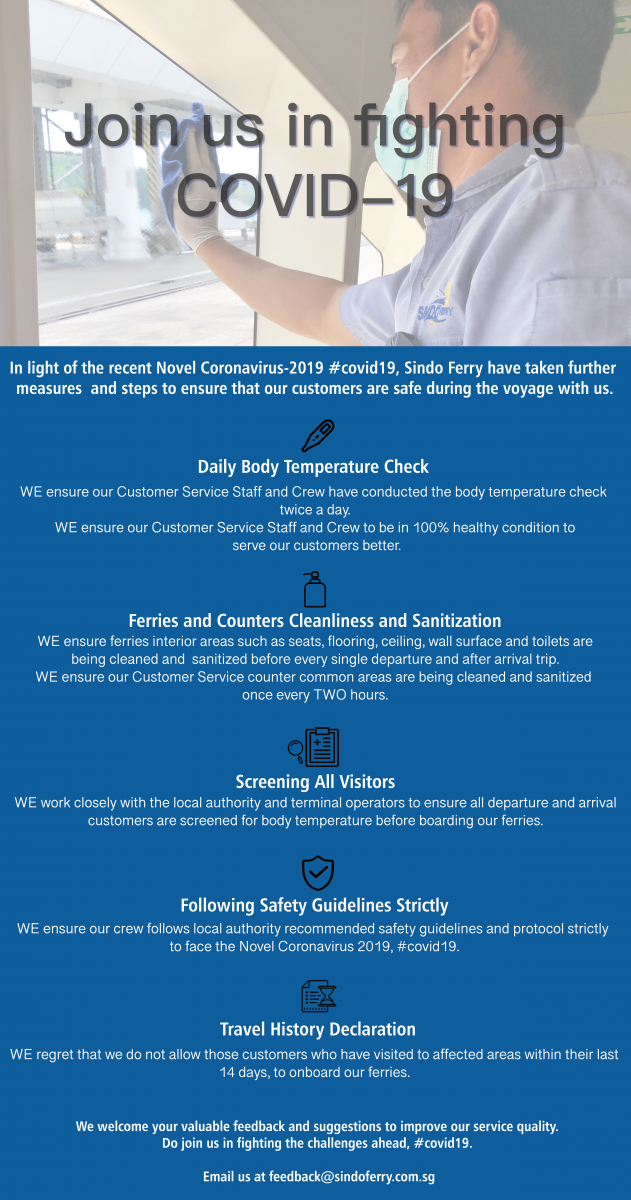 . 
 COVID-19 : Frequently Asked Questions
1. What protective measures has Sindo Ferry taken in light of Covid-19 outbreak?
The safety of our passengers, crew and staff is our highest priority. Sindo Ferry has been taking the following measures and steps:
a) Daily taking of body temperature for crew an dstaff, minimum twice a day.
b) Ensuring that all crew and staff are wearing mask during operational hours.
c) Ensuring that all crew and staf are briefed on how to maintain good personal hygiene such as washing and sanitizing hands at all times.
d) Ensuring that our counter service common areas are being cleaned and sanitized once in every two hours.
e) Ensuring that ferries interior such as flooring, seats, wall surfaces and toilets are cleaned and sanitized afer every arrivals.
f) Working closely with the local authority and terminal operators to ensure all passengers are to be screened for body temperature before boarding our ferries.
g) We will deny boarding to passengers who have visited affected areas within the last 14 days, in accordace to the local authorities travel guidelines.
h) We also have started operating procedures to handle any onboard medical emergencies including the handling of suspected cases.
2. If there is any unwell passenger onboard the ferry, what measurement will Sindo Ferry take?
a) Our crew has been trained to follow the local authority recommended standard operating procedures as well as the safety guidelines and protocols in handling any unwell passengers and medical emergency onboard, including the handling of suspected case, to prevent the risk of potential spreading of virus. Our steps include isolating the passenger, provide medicines and face masks. Our Captain will report to the destination country and ensure medical assistance will be ready for the passenger when he/she arrives.
3. What action plan will Sindo Ferry take if it is involved in a Covid19 case?
a) As part of the recommended safety guidelines and protocols by NEA, this includes thorough cleaning and sanitizing of the ferry's interior, cheamical disinfection spray by the local Authority, 14 days of quararntine for crew suspected to be of "close contact" with any confirmed case. Health monitoring and follow-up blood test will also be conducted. The affected ferry and crews will only resume operations after receiving clearance from the Authority.
b) Sindo Ferry is committed to working with the local authorities, such as Singapore's Ministry of Health (MOH) in preventing the spread of coronavirus inside the ferry and providing full assistance in tracing close contacts.
4. Is it safe to board Sindo Ferry?
a) Sindo Ferry has taken neccessary measures and the recommended safety guidelines and protocols.
b) At Sindo Ferry, Safety refers to not just fighting the Covid19 but also ferry maintenance. Some of you have been with us since 1999 and have probably fought SARS with us in 2003. With your support, we have won the battle. This time round, let's work hand in hand in fighting Covid19 and win the battle again.
5. How will I know if I'm on the same ferry with an infected person?
a) Sindo Ferry is working closely with the local authorities, such as Singapore's Ministry of Health (MOH) to prevent the risk of any virus spread inside the ferries.
b) Passengers who are believed to be of close contact with any confirmed patient will be contacted bby Singapore's Ministry of Healthy (MOH) and local authorities. Therefore, Sindo Ferry has started collecting passenger contact information upon check-in at our counter, in case if it is needed. 
If you need more information, please send your enquiry through our online form, or get in touch with us.